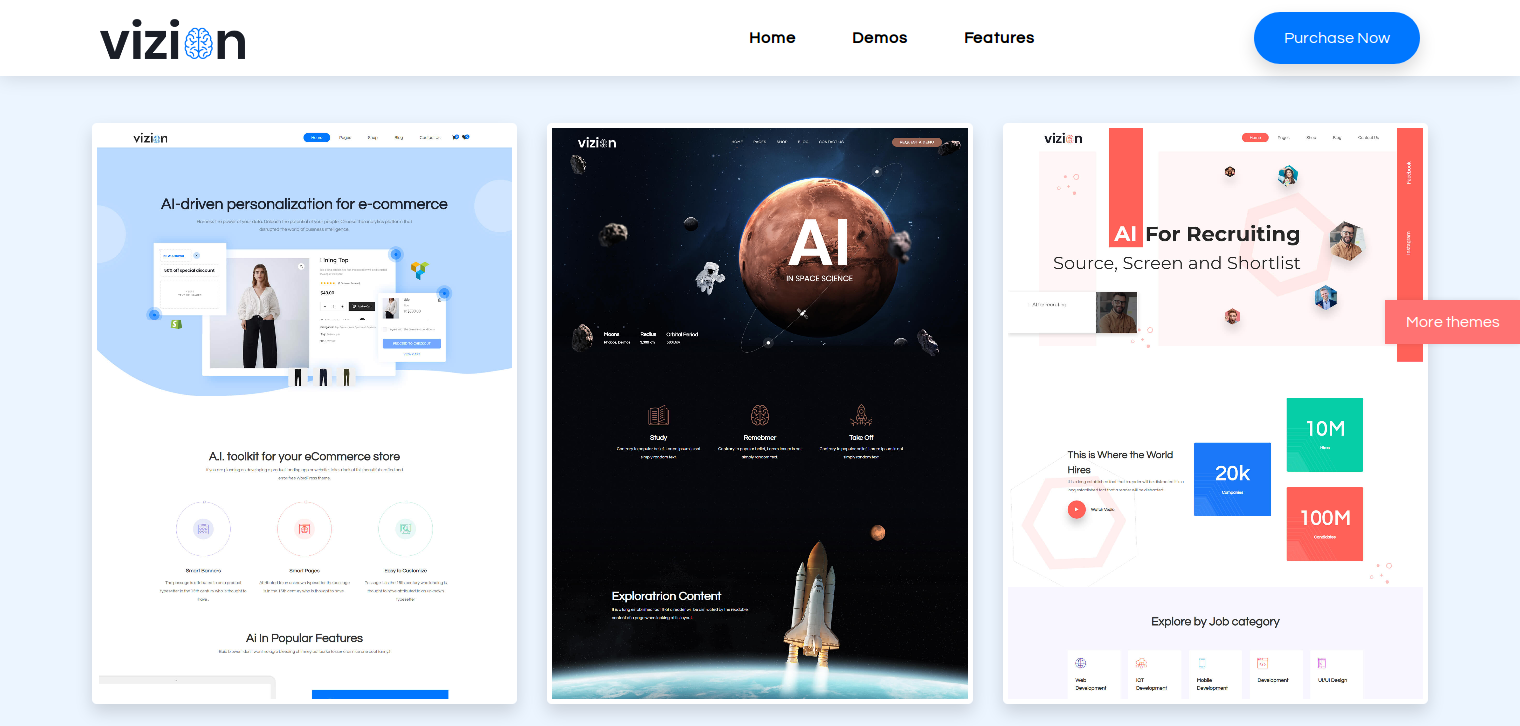 ---
The most loved AI/ML-driven WordPress site Vizion AI Startups WordPress theme just had a MEGA UPDATE! So this is a shout-out to all Vizion owners and interested ones that Vizion now has a V3.0 version. Hurray! The team and the community have been extensively running the latest update through its paces with our internal testing & bug fixing team. Thanks to you all for making Vizion a success! And because of you guys, we were encouraged to launch a multitude of homepages for diverse business industries. We earnestly appreciate all the support and feedback you have shown us, especially over the past week.
And parallel to it, we have got our bestselling themes on this CRAZY Black Friday SALE!
Believe us, we are very eager to share this patch out with you. Vizion AI Startups has been explored and re-envisioned in this Mega Update V3.0which is a culmination of 20 days of uninterrupted designing and coding. Kudos to our team, first! And the brand NEW homepages list is here:
AI in Education Home Page
AI in Manufacturing Home Page
AI in Construction Home Page
Ai in Automobile Homepage
Finance & Banking Homepage
AI in Insurance Homepage
AI in Healthcare Homepage
AI in Recruiting Homepage
AI in Space Science Homepage
AI in eCommerce Homepage
AI in Finance & Banking
The tech giants now are inclined to hog the highlight on the cutting-edge AI technology. AI in banking and finance and other facets of the financial sector is rising up. The banking incumbents are ready to adapt Artificial Intelligence for automation in certain areas. Banks have now prioritized technological advancement by investing in AI applications to enhance customer service and improve performance and boost revenue. The future of banking and finance is heavily influenced by emerging AI applications that are currently setting the stage.
Artificial Intelligence has now become both advanced and accessible for individuals from almost all industries. In the healthcare sector, AI has opened new possibilities for doctors in providing treatment and diagnosing illnesses. AI assists in both emergencies and ongoing care improvements. You can now build a hospital-centric AI system with the help of AI in the healthcare sector.
Let us thank the explosion of technology and ubiquity of the Internet of Things (IoT) that are eliminating healthcare boundaries to enable care anywhere and everywhere.
AI in eCommerce
Artificial Intelligence is spreading in every sector today. AI has built a strong niche that is hard to resist in eCommerce. The eCommerce strategies are mainly focused on how to use computer vision, chatbots, natural language processing and reinforcing other learning technologies to gain a competitive edge. We have talked about how an entrepreneur use Chatbot to pull in sales before. We also have a Chatbot homepage for startups and companies.
AI in Space Science
Artificial Intelligence and Machine Learning have applications in finance, healthcare, aviation, and so on, and the technology is now assumed to power space exploration. Spacecraft and satellites in deep space accumulate huge amounts of data and then these data are transmitted to centers for research and experiments. With AI tools you can leverage historical data to remove excessive data and optimize the data. There will be an emerging demand for quick and self-adjusting machine-learning based navigation capabilities. The projects could include orbit adjustment, autonomous navigation, and space station docking and so on.
AI in Recruiting
With today's recruiters, the need for top hiring speed, and best sourcing and engagement with passive candidates are bound to bring AI in the recruitment sector. Services like Programmatic Job Advertising, Augmented Writing, Interview Chatbots, Recruitment Marketing Software, Resume Screening software, Talent Rediscovery software, Gig Mobile Apps. Job Aggregators and CRM software are spiraling. Artificial Intelligence has brought a robust recruitment marketplace that not only publishes job openings but solicits, showcases, and manages the talent anywhere and everywhere.
AI in Insurance
AI technologies are already deployed in businesses, homes, and vehicles, as well as on our person. AI will reshape the insurance industry over the next decade. The successful penetration of existing day-to-day devices (such as cars, fitness trackers, home assistants, smartphones, smartwatches) will join the new growing categories such as clothing, eye-wear, home appliances, medical devices, and shoes, etc. The rapid changes in AI will lead to disruptive swift in the insurance industry. The insurance industries can leverage by harnessing insights from data sources, streamline processes, lower costs and exceeding customer expectations.
Secret whisper: We showcase an exclusive preview on our Instagram, Dribbble and Behance handle. Don't miss out!
---